Latest announcement: Due to recent abuse of our services, anonymous map uploading has temporarily been disabled. Only registered users will be able to submit new maps.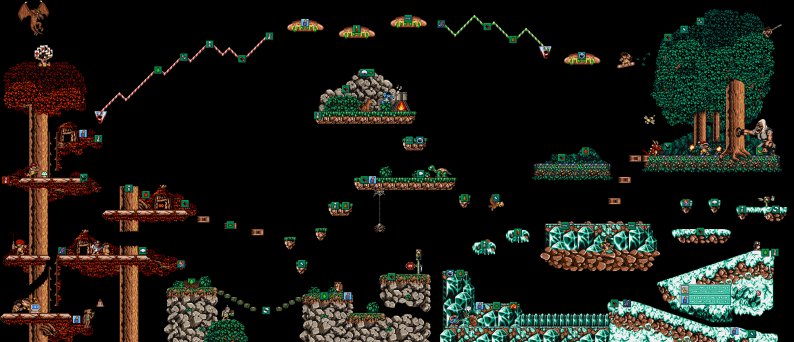 View in Full Size
|
Play now
Type:
Walk for Weapons
Size:
1968 x 848, 147KB
Tags:
prehistorik
Ratings:










9.50 (4)










9.67 (3)










8.75 (4)
Description:
I wonder if anyone remembers this game... I always played it at school some 10-12 years ago :P
I had to clean up most of the "land" sprites, because unfortunately Pre2 is a graphical mess. If you think some things look too random, go play the game first; you'll be surprised how random a prehistoric game can get, with hamburgers, doughnuts, cards, grenades, and such! :D
Most parts have been made walkable (even the tree on the right!), so you won't lose time by having to jump a lot.
The map has
some
several wormers on it, can you find them all?
Spoiler:


Auto: with university hat playing with a car
Balee: looking at the stars with a telescope
Bloopy: blue guy making music using the spoon and the cauldron
Cueshark: playing the acoustic guitar
CyberShadow: smashing the computer with a hammer
DarkOne: doctor examining a patient
Deadcode: red hair guy with Coca-Cola
Doben: Dobby, the house elf
Enty: Bender with chocolate
FFie: leafboarding
Konar6: dog looking at Bloopy
KRD: not-so-korean red dragon
M3ntal: chasing the 1up mushroom in a Mario hat
Mitsy: juggling fire poi in a Santa hat
MoM: playing the bass guitar
ShootMe: playing with cards
Wyv: wyvern :)
Programs used:
WormMM, Photoshop
Sprites:
Prehistorik 2, custom
Added on:
8th July 2009, 19:44
Downloads:
1579
Comments:
11 (
read/write
)
Favorites:
This map is on the favorites list of
12 users
.

FoxHound
,
goom
,
KRD
,

LeTotalKiller
,

OutofOrder
,
Peti
,
Saukstas
,
sbs
,
sheldon
,
ShootMe
,
Soustruh
,

TwilightShadow
Worth:
7 EXP
Features:
Elaborate, Good graphics, Themed, Sprites. (
complain/suggest
)
---
Online People:

Valik_smisharik