Latest announcement: Due to recent abuse of our services, anonymous map uploading has temporarily been disabled. Only registered users will be able to submit new maps.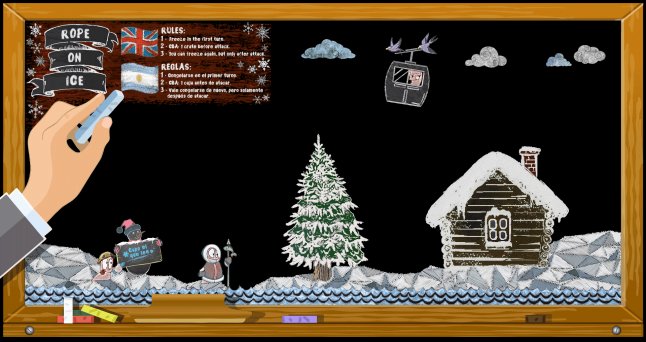 View in Full Size
|
Play now
Type:
Other Rubber
Size:
1920 x 1016, 345KB
WSC file:

Download
Tags:
Rope on Ice
Ratings:

































Description:
╔═══════════════╗
║
New winter game
.
║
╚═══════════════╝
Map
made in blackboard style, rendering this winter that is almost gone.
It accompanies
#32451
, following a similar "continuous freeze" topic, but more targeted on roping.
Rules
on the map. As an aide-mémoire, follow this order: Freeze→Crate→Attack→Freeze. The more crates, the more likely you'll drop mines on other frozen worms and cause them to fly through the air at the beginning of their turn.
Maximum of
worms
: 24. Recommended: more than 1 for each player... Anyone with 1 worm is practically lost because each team has x1 Petrol Bomb that can be reserved for that ending.
Final tip: Use
racing stuff
version if you play this scheme on other maps, to avoid some tedious blocking from hidden or frozen worms.
Link to scheme...
╔═════════════════════╗
║
Nuevo juego de invierno
═
║
╚═════════════════════╝
Mapa
hecho en estilo pizarrón, retratando este invierno que ya se va.
Acompaña al
#32451
, siguiendo una temática parecida de "congelamiento continuo", pero más focalizado en cuerda.
Reglas
en el mapa. Como ayuda-memoria, seguir este orden: Congelarse→Caja→Atacar→Congelarse. A más cajas, más chances de dejar minas sobre otros worms congelados y hacer que vuelen por los aires al comenzar su turno.
Máximo de
worms
: 24. Recomendados: más de 1 para cada jugador... Quien quede con 1 prácticamente está perdido porque cada equipo tiene x1 Bomba "Petrol" que puede ser reservada para ese final.
Consejo final: Usar la versión "
racing stuff
" si este esquema se juega sobre otros mapas, para evitar algún bloqueo tedioso con los worms escondidos o congelados.
Enlace al esquema...
Added on:
15th September 2017, 04:30
Downloads:
239
Comments:
0 (
read/write
)
Favorites:
This map is on the favorites list of
1 user
.
Worth:
3 EXP
Features:
None. (
complain/suggest
)