Latest announcement: Due to recent abuse of our services, anonymous map uploading has temporarily been disabled. Only registered users will be able to submit new maps.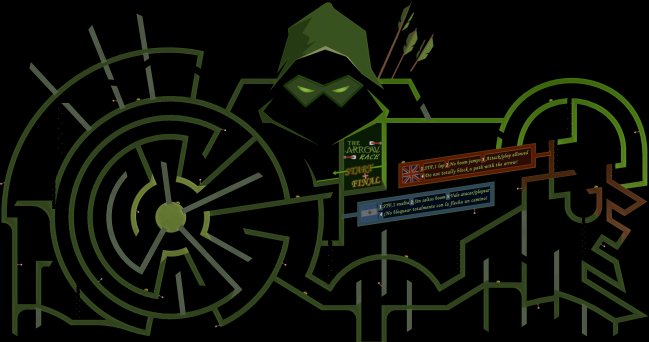 View in Full Size
|
Play now
Type:
Other
Size:
2080 x 1096, 153KB
WSC file:

Download
Tags:
bow race
,
bowrace
,
arrow race
,
adaptation
Ratings:

































Description:
If a freaky "Flash-Worm" has recently emerged here
#28747
, then his special mate could not be absent!
Enjoy this map specifically devoted to the ancient "Bow Race" or "Arrow Race". Our elderly wormers might find a couple of changes in comparison to the original scheme with only arrows...
preview...
+ New rules written in the map.
Spoiler:
The real Oliver Queen is coming back soon on season 4...
;þ
»━━(¯`The Arrow Race´¯)━━►
Si un "Flash-Worm" loquillo acaba de emerger recientemente acá
#28747
, ¡entonces su compañero especial no podía quedar ausente!
A disfrutar de este mapa dedicado específicamente a la antigua "Bow Race" o "Arrow Race". Nuestros wormeros viejitos podrían hallar un par de cambios en comparación con el esquema original de sólo flechas...
vista previa...
+ Nuevas reglas escritas en el mapa.
Spoiler:
El Oliver Queen real estará de vuelta pronto en su temporada 4...
;þ

Added on:
26th September 2015, 20:54
Downloads:
212
Comments:
0 (
read/write
)
Favorites:
This map is on the favorites list of
1 user
.
xyz
Worth:
3 EXP
Features:
Themed. (
complain/suggest
)