Latest announcement: Due to recent abuse of our services, anonymous map uploading has temporarily been disabled. Only registered users will be able to submit new maps.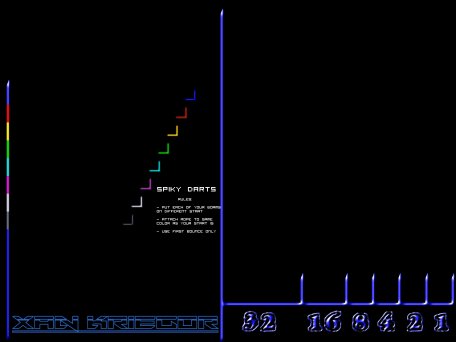 View in Full Size
|
Play now
Type:
Darts
Size:
1024 x 768, 12KB
Ratings:

































Description:
Another crazy shit, try to enjoy xD
Rules:
- 8 worms, 8 starts, place each worm on different start with any order (i would recommend from top to bottom)
- Attach your rope to same color you standing on (just shot horizontally, as it is)
- Shorten your rope and bounce off the wall using first bounce only.
- No contacts allowed before landing on target of course.
Demo1
demo2
Dedicated to PIZZASHEET. Thanks Sensei for testing.
Black background is recommended, as usual.
Colors: 110
Added on:
15th August 2015, 07:34
Downloads:
96
Comments:
0 (
read/write
)
Favorites:
This map is on the favorites list of
1 user
.
WormGamer
Worth:
2 EXP
Features:
Unimaginative. (
complain/suggest
)