Latest announcement: Due to recent abuse of our services, anonymous map uploading has temporarily been disabled. Only registered users will be able to submit new maps.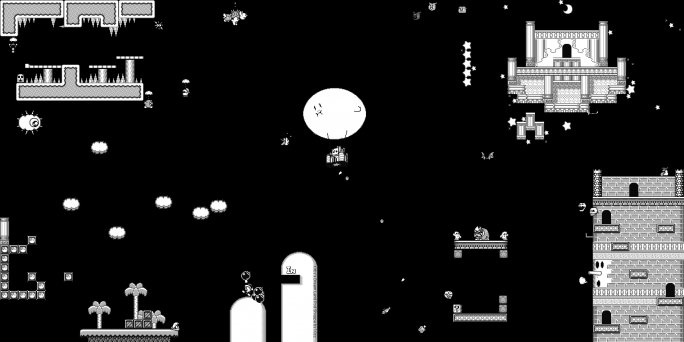 View in Full Size
|
Play now
Type:
Pod Shopper
Size:
2400 x 1200, 29KB
Tags:
Kirby
,
Kirby's
,
Nintendo
,
Game Boy
,
monochrome
Ratings:











5.25 (5)










5.75 (5)










5.50 (5)
Description:
A monochromatic, pixel-y Kirby's Dream Land map, designed to be open but still technical, with spots for flow, wide flings, tricks, and hides.
The style of map and how it plays is somewhere between "pod shopper" and "regular shopper with lots of plops." A vanilla shoppa scheme works fine.
Its colors are a bit bland, but the same could be said of most Game Boy games, eh? To make up for it, the background is nice and pink, to evoke strong feelings of
Kirby-ness
. :)
Critique is appreciated.
Enjoy!
Added on:
26th August 2013, 23:04
Downloads:
191
Comments:
0 (
read/write
)
Worth:
2 EXP
Features:
Not-so-good graphics, Themed, Sprites. (
complain/suggest
)