Latest announcement: Due to recent abuse of our services, anonymous map uploading has temporarily been disabled. Only registered users will be able to submit new maps.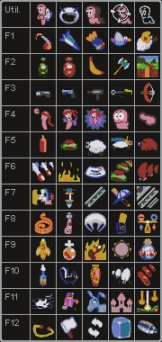 View in Full Size
|
Play now
Type:
Mole Shopper
Size:
2880 x 6080, 809KB
WSC file:

Download
Tags:
mole
,
rubber
,
minecraft
Ratings:

































Description:
Kawoosh's Minecraft weapons panel transformed into a flat map.
Colours: 64 + 6
ORIGINAL made in Creative mode by Kawoosh:
Image1
Image2
Image3
Image4
Total 68400 blocks. 16-colored wool palette.
Wanna have this in your Minecraft world? It may be available later.
RGB Version:
Link
Monochrome Version:
Link
You can play this with long-living Kawoosh's Rubber Mole Shopper (attached). Don't worry, this map will get destroyed quickly then.
300 holes are possible on 3.7.0.0 and up.
hf lol
Added on:
17th February 2013, 21:16
Downloads:
1395
Comments:
12 (
read/write
)
Worth:
3 EXP
Features:
Themed, Sprites. (
complain/suggest
)