Latest announcement: Due to recent abuse of our services, anonymous map uploading has temporarily been disabled. Only registered users will be able to submit new maps.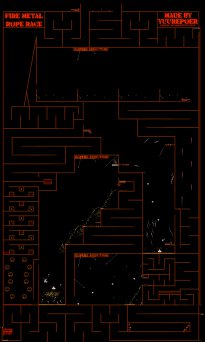 View in Full Size
|
Play now
Type:
Rope Race
Size:
6000 x 10000, 2551KB
Tags:
C(RR)sf II
Ratings:










7.50 (3)











8.00 (2)










7.50 (3)
Description:
The first remix of the most 'kin playable rr eva, of the
Yuure
's
MetalRR
xD
But this map is supposed to be the Burning Metal (but since it's impossible to make fire glow from the lines (cuz lines should be smooth and thin), it doesnt looks like firemetal... but still :P)
Also I fixed 2 zones in order to improve roping and fixed the "grey skin worms" and added some effects on them.
But since i made unrepeatable map texture, u should pay one more mb for the map...
Original map: 1628KB
This1 remix: 2551KB
HF.
Original map:
#8899
Added on:
30th August 2012, 12:09
Downloads:
1662
Comments:
6 (
read/write
)
Favorites:
This map is on the favorites list of
1 user
.
Worth:
3 EXP
Features:
Remix. (
complain/suggest
)