Latest announcement: Due to recent abuse of our services, anonymous map uploading has temporarily been disabled. Only registered users will be able to submit new maps.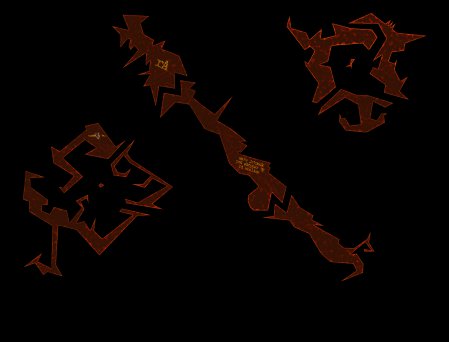 View in Full Size
|
Play now
Type:
Other
Size:
2344 x 1784, 142KB
WSC file:

Download
Tags:
Jetpack Jet Pack Shoppa Shopper rA Ropers Addictio
Ratings:











7.00 (1)











9.00 (1)











8.00 (1)
Description:
PLEASE READ ALL INFORMATION BELOW BEFORE PLAYING!
Hello and get excited for the scheme of 2010:
Jetpack Shopper
!
The concept is obvious - it's the same as a normal shopper but everything is done with a jetpack (infinite fuel) rather than a rope!
The scheme is Taz's brainchild and as we play it quite a lot already I felt there should be some custom maps for it so I sketched this up and it plays pretty nicely.
Rules:
- Crate before attack
- Attack from jetpack (
including f4 weapons
; press space twice quickly)
- Kill the leader
- No blocking (don't trap opponents worms as knocking is not possible!)
The scheme is intended to be played with 20s turns, (you'll see why - its pretty easy to get around) but the attached scheme has
25s turns and 10s retreat time
as this map is big and it can take a while to get a crate and get to the leader in 20 seconds only..
No teststuff, rubberworm or any other extra facilities are required to play the scheme, the attached scheme has infinite jetpack fuel and runs fine on your average WA.exe
Mines are
2s
so that you can knock them nicely in the early section of the game, but only if you have some skill, otherwise your worm is going to be birdfood! Be careful dropping and throwing things from jetpack as if you fire a zook into the wind whilst still moving into the wind, the zook will explode on you -
let go of the arrows when making drops.
I'd recommend 4 worms per team on this map as it has plenty of plop action, and I'd also suggest manual worm placement for more serious games as the random placement on this map can lead to a wet ending. I've left random placement on the scheme, if you're bothered about that then just turn it off before you play. ;)
(In my opinion) the map looks nicer with a black background - the deep oranges are more vivid and pleasing to the eye. If you prefer to play with a background, use the
tribal background
. The map is saved with 97 colours so the background won't be pixelated :)
Important: I ask that all players are tolerant with beginners and newbies, this is a new scheme so be patient with new players and remember that you were a noob once ;)
If you're still wary of the scheme and unsure how to play, watch this replay of me playing, remember that F4 weapons can and must be used from jetpack too, space should be pressed twice.
https://www.mediafire.com/?uzzcyohdokm
Weapon Power/Ammunition Information:
Spoiler:

Start with:
Infinite Zook, Dragonball, Kamikaze, Pneumatic Drill, Jetpack, Low Gravity

Weapon power adjustments:
Jetpack fuel infinite
Cluster Bomb 4*
Banana Bomb 1*
Kamikaze 5*
Holy Hand Grenade 2*
Mad Cows 2*
Everything else is standard
Have fun!
Added on:
29th January 2010, 11:54
Downloads:
169
Comments:
9 (
read/write
)
Favorites:
This map is on the favorites list of
2 users
.
Worth:
7 EXP
Features:
Good graphics, Original. (
complain/suggest
)