Latest announcement: Due to recent abuse of our services, anonymous map uploading has temporarily been disabled. Only registered users will be able to submit new maps.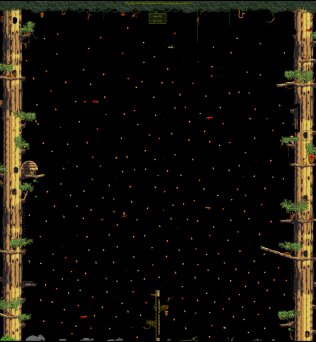 View in Full Size
|
Play now
Type:
Bow & Arrow
Size:
2400 x 2600, 348KB
WSC file:

Download
Tags:
big
,
jungle
,
trunk
,
fruit
,
leaf
Ratings:










8.50 (2)











9.00 (2)











10.00 (2)
Description:
I finished this semester with rather good figures so I could get back to mapping. To commemorate my success, I bring to you something special this time.
Two Great Trees depicts an average day in the jungle, and was built using the first five levels of
The Jungle Book
, with extreme sprite modifications and attention to detail. Why? Because I wanted to break away from the game for a change and because I want to blow Edocon out of the water and gain BnA supremacy ;D
Note:
Due to its sheer size and number of objects the map caters more for fully packed games, but it should also be fun with fewer worms if water level is raised.
And if you are after something different...
Use the attached scheme file featuring:
- increased utility and weapon crate drop rates
- dud mines
- shotgun for more flexibility
- teleport and ninja rope for more mobility
I can highly recommend adding 1 of shotgun, jetpack, ninja rope, and select worm - it makes the game more complex and entertaining when these additions aren't used properly :D
Details:
- 64 colours
- top cavern type
- Desert background
Programs used:
- Gens with The Jungle Book ROM
- Adobe Photoshop CS3
Enjoy ;)
ps can you find Mowgli?
Added on:
24th January 2010, 20:44
Downloads:
12579
Comments:
10 (
read/write
)
Favorites:
This map is on the favorites list of
9 users
.
Worth:
7 EXP
Features:
Elaborate, Good graphics, Themed, Sprites. (
complain/suggest
)