Latest announcement: Due to recent abuse of our services, anonymous map uploading has temporarily been disabled. Only registered users will be able to submit new maps.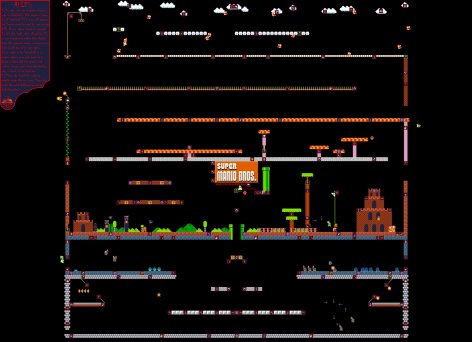 View in Full Size
|
Play now
Type:
Other
Size:
3840 x 2784, 184KB
WSC file:

Download
Tags:
Rope for Weapons
,
RfW
,
Mario
,
SMB
Ratings:

































Description:
My latest and greatest map, the Super Mario Bros. Rope for Weapons, the final installation in the 3-part SMB map series. :D
Not a whole lot to say, if you've read the rules on my previous map. If not, go read them either there or here on the map - the scheme is included below. As far as I can tell I've fixed/removed all major flaws in the map's base design and weapon placement, but please feel free to notify me if you think otherwise. The map was made only about a week ago.
Also, I should mention a little host's choice here. Playing with TestStuff allows the use of batty ropes, as well as all the ground weapons (which I usually find more fun), but playing without it allows you to fling drop weapons without them bouncing back, like the Super Banana, which turns into a deadly weapon when used as such.
Added on:
11th September 2009, 23:51
Downloads:
236
Comments:
2 (
read/write
)
Favorites:
This map is on the favorites list of
2 users
.
Worth:
7 EXP
Features:
Good graphics, Original, Themed, Sprites. (
complain/suggest
)