Latest announcement: Due to recent abuse of our services, anonymous map uploading has temporarily been disabled. Only registered users will be able to submit new maps.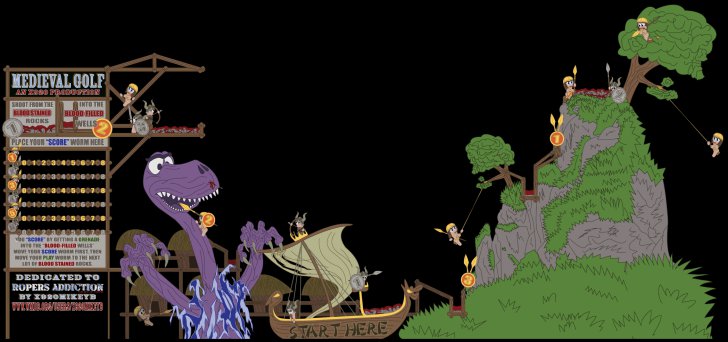 View in Full Size
|
Play now
Type:
Golf
Size:
2096 x 984, 360KB
WSC file:

Download
Ratings:











10.00 (2)











10.00 (2)










9.50 (2)
Description:
Hey all! I bought to you possibly worms greatest golf map!
Behold! My second map is in progress! - MediEval Golf!
This is a 3 hole taster of the map so far, more will be added shortly, and soon as the final piece is complete, it will be uploaded here. Providing I get enough interest in the map!
PLEASE NOTE:
This is a Teaser Map! It only has THREE holes, the final map will contain at least EIGHT holes!
So be sure to leave any comments, good or bad, and any idea's please.
Thanks!
Rules: Place 1 worm in boat on #1, and place other worm in the "Score" part in the outpost on the left hand side of the map.
Enjoy!
P.S. I'm dedicating this map to all the great Ropers Addiction members, I'm hoping I'll soon become a member, however, if they wish not to let me join, the map will still remain dedicated to them as most my wormer buds are in there :)
Added on:
2nd September 2009, 02:31
Downloads:
572
Comments:
13 (
read/write
)
Favorites:
This map is on the favorites list of
1 user
.
Edtsunami
Worth:
5 EXP
Features:
Elaborate, Themed. (
complain/suggest
)